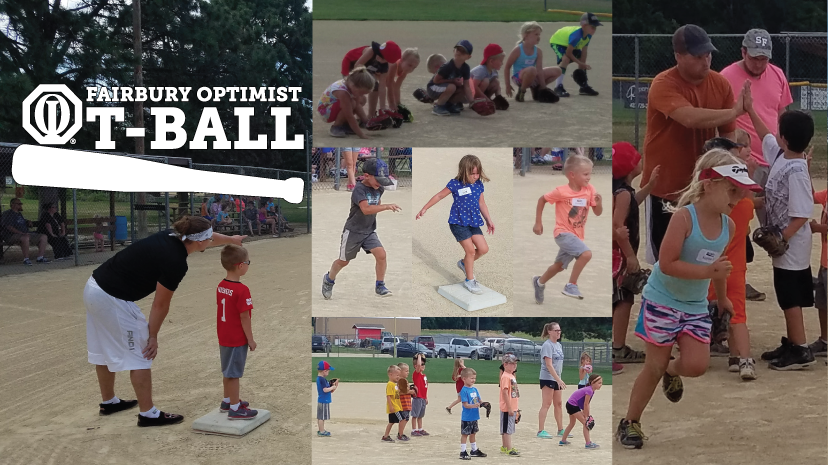 Registration Open for the 2018 Optimist Youth T-Ball program
Join the Fairbury Optimist Club this July for instructional youth T-Ball beginning Thursday, July 12. Children who are age 4 or older as of May 1 are invited to sign up for the 4 week program. Players will learn the basics of baseball/softball. Optimist Youth T-Ball is a free program for area youth.
Download the 2018 T-Ball Registration Form here
Completed registration forms are due by June 29 to the Fairbury Chamber of Commerce, 518 E Street. After June 29 forms are accepted at the first practice but t-shirts are not guaranteed.
#fbytball
OPTIMIST T-BALL REGISTRATION
Frequently Asked Questions
When does T-Ball Start?
Optimist Youth T-Ball begins Thursday, July 12, 2018 from 6:30 to 7:30 every Thursday through August 2.
Where does T-Ball occur?
Fairbury Softball Complex – Fairbury City Park
How old does my child need to be to participate?
T-Ball participants must be 4 years old or older as of May 1. That means born before 5/1/2014
Does T-Ball cost anything?
No. This is a free program sponsored by the Optimist Club of Fairbury.
When is the deadline to register?
June 29, 2018. After June 29, registrations will be accepted at the field on July 12. T-Shirts are not guaranteed for registrations received after June 29.
Where do I find a registration form?
Paper forms are available at the Fairbury Chamber of Commerce, 518 E Street.
Download a PDF form from fairburyoptimists.org or facebook.com/fairburyoptimists
Where do I take my completed form?
Fairbury Chamber of Commerce, 518 E Street by June 29th. After June 29th bring to the field at first practice July 12.
Will my child receive a t-ball t-shirt?
All participants registered by the June 29th deadline will receive a free t-shirt.
What equipment do I need?
T-Ball participants will need to bring their own glove.
Bats, Balls and Tees are provided by the Optimist Club.