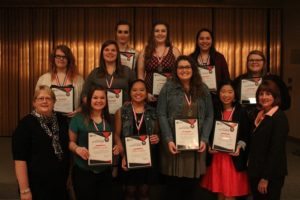 By Shaun Friedrichsen, Editor
Fairbury News Now
The Fairbury Optimist Club took time to honor area youth for their academic achievements on Sunday as part of an annual event to promote success among high school seniors.
Diane Schutt, president of the Fairbury Optimist Club, explained that this is an important event for the Optimists, and that is in line with the foundational beliefs of the organization.
"The Fairbury Optimist Club, and Optimist International, have a youth appreciation event that the clubs sponsor every year," said Schutt. "The Fairbury Optmists choose to do a banquet to honor seniors who continue to do well in school, despite challenges they may face."
Schutt emphasized that it is important to recognize youth accomplishments when they occur because it helps to keep them on a path to future success.
"The Optimists promote youth, and doing things to benefit the youth," Schutt said. "It's important to keep young people on track and moving forward in life."
Teens from four schools, Fairbury High School, Meridian High School, Tri-County High School and Thayer Central High School, received medals and certificates to commemorate their achievements. Those who received this recognition are: Keden Boeve, Althea Esteller, Haylee Gray, Mary Lawrence, Robert Meyer, Jacob Durflinger, Shelby Homolka, Nycole Lockwood, Kyleigh Aksamit, Shianne Bryant, Joshua MacFarland, Mary Schlicker, Brook Hergott and Hyeon Wang.
Judge Linda Bauer, who spoke at the banquet was happy to see young people working hard to persevere in the face of adversity.
"From my professional perspective, I think that youth today are dealing with so many more pressures; there's so much more temptation out there as far as getting into trouble with drugs and alcohol, and there are so many pressures on them with social media that are weighing on them," said Bauer. "Then you have a group of students like that who have, despite those circumstances, and in addition to some other really tough things in their lives are managing to thrive and excel. Seeing young people being able to do that is something for everybody to rejoice. It's a pleasure to be able to acknowledge that."
Judge Bauer emphasized that recognizing their will to overcome these struggles helps to strengthen that desire for success, which will contribute to having a brighter future.
"It's a pleasure to be able to congratulate them for their achievements," Bauer said. "I hope the fact that we are celebrating their accomplishments today and reinforcing the notion that hard work, perseverance and the strength to overcome things will see you not just through high school, but through all of life. Life doesn't necessarily get easier after high school, so hopefully this is something that encourages them as they go forward in life."